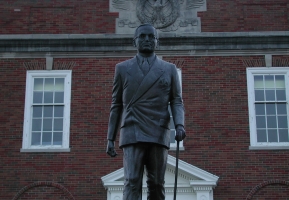 A town rich in history and honest values, Independence is also the starting point of the Westward movement. Just 20 minutes from downtown Kansas City, it has a population of 117,000 with a small-town feel.
Home of the National Frontier Trails Museum, Independence was the jumping off point for five of the Westward trails, including Lewis and Clark's Corps of Discovery. And in a salute to the Santa Fe, California and Oregon Trails, each Labor Day Weekend for 42 years the Historic Independence Square has filled with vendors, music, arts and food for SantaCaliGon Days.
While Independence is more than historic buildings, there is much pride in the Harry S Truman Library and Museum, the Midwest Genealogy Center, the Vaile Mansion as well as the Bingham-Waggoner Estate.
Independence, Missouri was built on the pride of the people that call it home, including President Harry S Truman. Its residents are down-to-earth, hard-working folks who are proud of their history, excited about their future, and welcome visitors with friendly