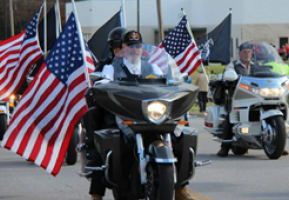 Perfectly located in the heart of Missouri's Interstate 44 corridor, Pulaski County is the center of your Ozark adventure. Bursting with small-town Americana, Pulaski's cities of Crocker, Dixon, Fort Leonard Wood, Richland, Saint Robert, & Waynesville each have their own captivating history, culture and hidden treasures- and each community revels in the natural, vibrant beauty of its surroundings. Outdoor enthusiasts know that within minutes you could be fishing, hunting, canoeing, kayaking, golfing, or exploring a prehistoric cave.

Waynesville, the county seat, and Pulaski's oldest community has a vibrant, historic downtown that is infused with arts, entertainment, great food, culture, and Midwestern hospitality with small-town charm. Situated on legendary Route 66, the city boasts two museums and ties to the days of stagecoaches- and a dash of Civil War history.

Some people say that Pulaski County is always celebrating something. Actually, they're right! Families love Old Settlers Day, Railroad Days, two County Fairs, rodeos, Frogtober Fest and Cow Days.

Select Video