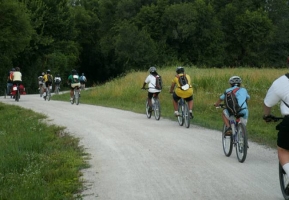 Gentle rolling hills and prairie beckons you to come and play in Sedalia, located on Highways 65 and 50, only 18 miles south of Interstate 70 in west central Missouri.

Each year for eleven days in mid-August the Missouri State Fair features "the Best of The Best" in agriculture. The Fairgrounds also plays host to camping rallies, sports tournaments and trade shows. Sedalia is recognized as the birthplace of Ragtime music and celebrates with an annual June festival.

Katy Trail State Park is the longest U.S.rails-to-trails park showcasing some of Missouri's most beautiful scenery. The Katy Depot Historic Site serves as Sedalia's Welcome Center, gift store, and interpretive center.

At Fairgrounds corner is Sedalia's newest landmark, Trails End. It commemorates cattle drive and railroad heritage. The strong history as a railroad center positioned Sedalia as a cattle drive destination.The 1960's television show, Rawhide, depicted the life of the cowboy and the romance of the cattle drive era as they headed to Sedalia.
Select Video